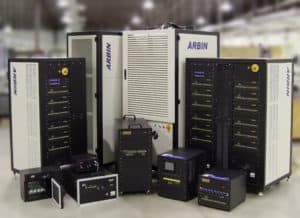 Arbin celebrated our 25 year anniversary in 2016 by introducing a new generation of test equipment, including our new High Precision Tester that is quickly changing the way customers identify and develop new technologies. In 2017, Arbin will build upon the success of our Laboratory Battery Test Series (LBT) and continue to introduce innovative technology to the market by heavily investing in research and development. We are constantly driven by our goal to provide researchers with a tool to deliver low-cost energy storage devices to consumers.
A few of our achievements in 2016:

New Two-Year Standard Warranty
Built upon the success and feedback of the new Laboratory Battery Test Series (LBT) hardware, Arbin will now be providing a Standard Two-Year Warranty on all new hardware purchases. Arbin's new LBT hardware is in full production and has received terrific feedback from customers for the ability to provide a reliable test environment with high precision measurements for cell, module, and pack testing.
Arbin's engineering team has always been confident in the reliability and longevity of our products, with some of the first manufactured test stations still in use. Since 1991 our customers have received responsive support through our network of offices around the world, and the new Two Year Standard Warranty will provide customers with continued access to our support team, paired with a life-time of phone and email support for as long as you own your Arbin test station.