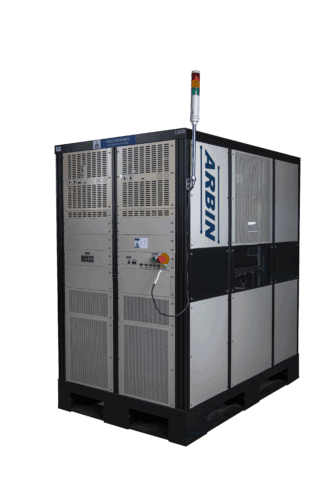 | | |
| --- | --- |
| | |
| Channel Voltage | 4~60V |
| Channel Current | 25~100A |
| Channel Number | 2~16 |
| | |
Regenerative Battery Testers for Electrical Vehicle and Grid Storage Applications
Arbin's Regenerative Battery Testing (RBT) series is specifically designed for testing high-power battery packs. Engineered with electric vehicles, military technology, and stationary grid storage in mind, these pack testing systems can simulate complex, real-world applications such as drive profiles, cranking amp applications, and other custom profiles. The regenerative circuitry within each RBT system allows power to be discharged back to the grid, making it a more economical battery test solution for pack voltage up to 1000V and maximum power up to 1MW.
Reliable and Safe Battery Pack Test Equipment
Battery pack testing requires both dependability and safety, two core design principles in Arbin's RBT series. To provide a safe, high-performance solution for high-power testing, the latest RBT systems feature improved thermal management, redundant microcontrollers to ensure failsafe testing, and built-in UPS to ensure a proper shutdown sequence in case of input power failure. These features for battery pack testing are in addition to the safety features that are standard to Arbin battery test equipment.
Contact Us Today for a Quote
Complete our contact form to request a quote or learn how battery test equipment from Arbin Instruments can meet your testing requirements.