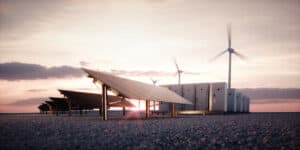 The US renewable energy industry has been growing steadily in the past two decades. From 2000 to 2018, renewable energy grew 100% and in 2020, renewable sources made up 11.4% of the country's energy source. With the government's new initiative for the power-sector to be decarbonized by 2035, the shift towards clean energy will most definitely accelerate. Here's what this change could look like in the coming years.
Electrification across the board
For decarbonization to be successful, there must be cooperation from peoples across all levels of society; industries, corporations, and households all have a role to play.
Transportation, one of the biggest contributors to carbon pollution, continues to be at the forefront of electrification. With more and more EV models across the price spectrum debuting on the market, there is increasing enticement for drivers to make the switch to EVs. Many cities across the country are also taking initiative to replace public buses with electric alternatives, further facilitating the decarbonization of transportation. Delivery services like FedEx and UPS are also acquiring electric vehicles to slowly electrify their fleets.
Buildings and homes will soon also become more and more electrified, with gas-powered appliances such as furnaces and water heaters replaced with electric ones. With studies showing that home gas-powered appliances such as stoves increase indoor air pollution, more people are willing to switch to induction stoves and other alternatives.
While the upfront cost of replacing technology with electric versions can be high, studies have found that they are certainly more cost-efficient in the long run.
Supportive Infrastructure
Speaking of electrification, there has to be sufficient and resilient infrastructure to support it. One of the most important foundations is a modernized grid coupled with energy storage. With the, at times, erratic availability of renewable sources such as solar and wind, storage is an important addition to the grid to ensure a consistent supply of electricity. It is estimated that at least 3.6 gigawatts of battery storage will be installed in 2021, significantly adding to grid resilience and increasing the ability to consolidate and integrate multiple energy sources.
Expanding electric vehicle charging facilities is also crucial in creating an EV-friendly environment, further encouraging carbon-emission free options such as light-rails or bicycle paths.These options also contribute to decarbonization and encouraging clean and green commute options.
Localization energy generation
One of the advantages of renewable energy is that most anyone can contribute to its generation. Solar PV is one of the easiest ways for homes and businesses to adopt renewable energy on their own. 2019 and 2020 saw a boom in the deployment of residential solar panels. The installation of home residential energy storage continues to steadily increase and is expected to grow six-fold by 2025. This shows that individuals are open to taking clean energy into their own hands and do what they can to decarbonate their own homes. Updating to a modern two-way grid will also allow individual homes and buildings to contribute to energy production and sell electricity back to the grid, facilitating a local and resilient grid system.
What role is Arbin playing in the clean energy revolution?
Arbin continuously provides high quality test equipment made for grid storage applications, EV applications, and more.