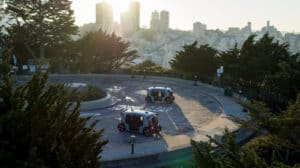 Seemingly straight out of a futuristic sci-fi movie, self-driving cars may soon be a reality. Multiple big-name companies are racing to release robotaxis – self-driving cars meant to ferry passengers between destinations. Zoox, a self-driving car company acquired by Amazon earlier in 2020 unveiled its robotaxi in December after years of secrecy. In the same month, it was reported that Apple's electric vehicle project, code named Project Titan, is underway and the company hopes to put out its autonomous vehicles by 2024. AutoX, a start-up backed by Alibaba also recently began deploying unmanned vehicles on the streets of Shenzhen, China, testing its technology without a back-up driver or remote operator.
These are not the only companies looking towards self-driving technology. Ride-sharing companies such as Uber and Lyft have also been working towards creating robotaxis. With all these recent announcements, it seems that the fully autonomous vehicle is just around the corner. Where exactly are we with self-driving cars and what obstacles still need to be overcome to see this future?
Why are so many eager to implement autonomous vehicles?
One of the biggest motivations behind autonomous vehicles (AV) is the safety factor. A 2016 study by the National Highway Transportation Safety Administration reported that over 90% of traffic accidents are the result of human error. The hope with AVs is that self-driving technology would be better able to react well and quickly to an obstacle in order to avoid an accident. This technology relies on LiDAR, which stands for "light detection and ranging". LiDAR is a sonar that uses laser waves to map out distance to surrounding objects. Using this function, AVs would be able to estimate distances and spaces far better than humans can. For instance, Zoox's self-driving car uses LiDAR to obtain a 270-degree field of view, eliminating drivers' typical blind spots. With this, vehicles can constantly track its surrounding and avoid being blind sided by a sudden obstacle.
As with electric vehicles, another hope with autonomous vehicles is the reduction of emissions. It is projected that AVs can reduce emissions by 60%. Self-driving cars can also increase energy efficiency as they can optimize driving and accelerate and decelerate more efficiently.
How far away are we from a self-driving future?
Tesla cars already have some self-driving features. Tesla's Autopilot is a driver assistance system that allows the vehicle to automatically steer, accelerate, and brake within its lane. Currently, autopilot features must be used with a fully attentive driver whose hands must remain on the steering wheel, ready to take over if necessary.
Fully driverless autonomous vehicles are still undergoing safety testing. Google's Waymo had been performing months of closed testing both with and without a safety driver. In the middle of 2020, its driverless vehicles were open to the public within a few service areas in Phoenix, Arizona. While the scope of its operation is still limited, its results are promising. Currently, the vehicles only operate on roads with a maximum speed of 45 miles per hour and service has not yet expanded across the entire city. People who have tried the service, however, are satisfied with it.
AutoX has deployed its fully autonomous vehicles on the streets of Shenzhen but they are not yet open to the public. The company has also received a permit to begin driverless testing in California.
Zoox's prototype vehicle is very different from its competitors; its design is unlike a traditional car and there is no steering wheel or brake pedal. Without a safety driver, testing, especially on public roads, would be more complicated than its counterparts. Zoox has not stated its timeline for testing on public roads.
What obstacles still need to be overcome?
Proving the safeness of these vehicles is one of the biggest challenges that these companies have to overcome. While the hope is that AI can better avoid accidents, this has not always rung true. Tesla's Autopilot has come under scrutiny a few times for failing to stop accidents. Many factors could play into these occurrences, however it does not help in fostering trust in the public mindset.
A shift in car culture also must happen. Many of these robotaxi companies hope to see a shift from private passenger cars to these ride-sharing vehicles in order to reduce the number of vehicles on the road. However, whether or not this will happen remains to be seen. Even with the rise of ride-hailing companies such as Uber or Lyft, some studies have shown that the number of vehicles on the road has actually increased, with more drivers waiting to pick up passengers. Robotaxis must be an enticing option in order to compete with what is already available.
Moreover, AVs are still limited by the capabilities of the electric vehicle battery. Zoox's robotaxi is fitted with a 133kWh battery which can last 16 hours before being charged. This battery is much larger than ones currently in EVs, with Tesla's biggest battery coming in at 90kWh. While this battery size allows for almost all-day operation, the disadvantage is its weight. The Zoox taxi weighs in at 5,401 pounds, despite its compact design.
All in all, while self-driving technology is improving, it could still be a while before it is widely adopted. Results have been encouraging so far, and as more tests are undertaken we may soon see robotaxi companies expanding their operations, for more and more people to experience this driverless future.