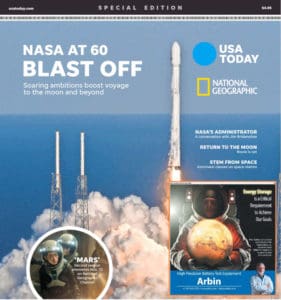 Join Arbin in celebrating NASA's 60 years of achievements!
USA Today released a Special Edition publication looking back at NASA's past 60 years, and looking forward at what is on the horizon.
View this special edition publication for free and check out Arbin's ad on page 33.
Energy storage is a critical requirement to achieve our goals in space travel, exploration, and technology.
When battery performance and safety have the highest demands, researchers trust Arbin test equipment to generate data they can rely on.
Arbin battery test equipment is capable of simulating elliptical solar charge orbits, advanced materials research with EIS, basic cycling, and most everything in between.