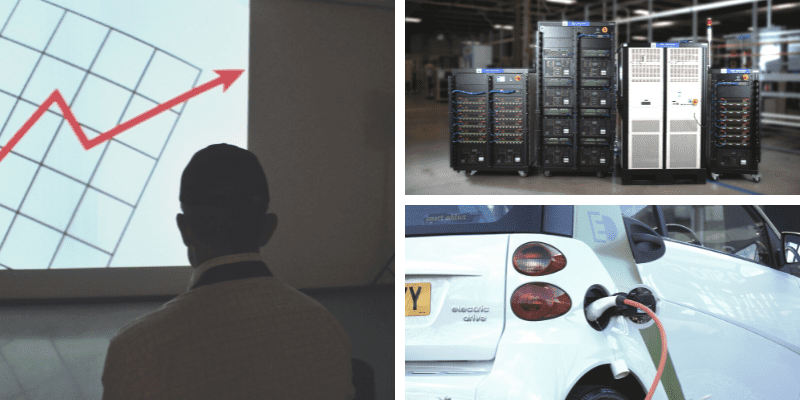 Having celebrated 30 years in 2021, Arbin now prepares to look forward to 2022, continuing our mission to rise up to every challenge we come across. Arbin is committed to remaining at the forefront of battery technology, providing state-of-the-art battery test equipment to facilitate research.
The battery industry has grown exponentially over the years. The ongoing transition to green energy has sped this up. There is an increasing demand for energy storage solutions — and, subsequently, for improved equipment as better and more efficient technologies are tried and tested.
I recently had the opportunity to sit down with the Vice President of Global Sales for Arbin Instruments, Antony Parulian. He shared his perspective on the changing scope of the battery industry, explaining that battery innovations now extend beyond niche research communities in their potential and impact. Broader accessibility of battery research will lend greater support to sustainability efforts and other battery applications with a society-wide reach.
Arbin Instruments is specially equipped to provide the tools and resources that empower battery innovations at all levels. "We make battery testing accessible for both small and large operations while maintaining the quality required for reliable results," Antony stated, referring to this as "precision at scale." Arbin's commitment to the wider availability of battery testing resources is reflected not only in our products but also in Arbin's growth around the world.
Solutions for Every Battery Testing Need
Arbin's dedication to accessible battery testing at scale is evidenced in our battery testing systems, software, data solutions, and support. This is especially important as battery research and testing facilities need test equipment capable of performing multiple functions, that can be integrated on a facility-wide scale. Arbin provides a turn-key test solution that can be expanded with additional auxiliary capabilities. Arbin's MITS Pro software also provides a universal software interface for all battery testing applications so clients can transition seamlessly from lab-scale R&D to commercial scale and production testing.
Battery Testing Systems
Arbin's battery testing systems come in different sizes, ranging from μA single cell applications to 1MW packs. Systems can also be customized to the number of channels, voltage, and other requirements of each unique project. Channels are fully independent with full potentiostatic and galvanostatic control.
Arbin's battery testing systems are industry-leading in precision and resolution; high-quality equipment delivers the results needed to make decisions and forward strides in battery technology and innovation.
Our systems can also grow with your needs. Testing set-ups can be built on or enhanced with additional testing systems or auxiliary equipment. These include auxiliary voltage inputs, temperature measurement inputs, digital and analog input/our channels and more depending on the information needed.
Arbin also continues to develop new products that address the changing needs in the battery industry. The Multi-Zone Temperature Chamber (MZTC) features independent battery test mini-chambers that use state-of-the-art temperature management for a higher level of temperature control and reliability during testing. Arbin's "3E" three-electrode coin cell provides reference electrode measurement that is designed for mass-scale testing and provides consistent results at a lower cost than traditional solutions.
Our latest HPS system, HPS21024, offers ultra-high precision charge/discharge testing of coulombic efficiency on cells up to 5A. Additional new products and solutions are in development as Arbin identifies specific needs within the battery industry.
MITS Pro Software
Arbin's Mits Pro Software was designed to be a powerful and flexible solution to support battery testing systems. The software has logical menu-driven programming for control types, termination conditions, and data logging conditions. Tests can be simulated directly from a text file, which is useful when running real-life simulations such as drive profiles to more accurately test a battery's performance.
In order to ensure the utmost safety, the Mits Pro Software also allows users to tailor precise safety limits and set the system to automatically stop tests if the safety threshold is reached.
Data Solutions
With labs usually running more than one battery tester, it is necessary to have efficient solutions to manage, monitor, and collect data. Arbin equipment can be managed across a network with the Central Monitor and Control Solution (CMCS) which allows users to control cyclers from a single PC. Users can start, stop, and resume testing on any networked battery testers and catch potential problems as soon as possible.
We also provide a Centralized Data Solution (CDS) for users to easily centralize and back up data to a central or cloud-based network server for easier and more sophisticated data analysis.
Customer Support
Customer support is one of our pillars at Arbin instruments. We believe in providing the best service to our customers in order to address their needs and concerns. We provide online resources, including training videos, to address common questions. Our customer service team provides dedicated, professional, and efficient service, giving answers with a quick response time to customers' queries. Arbin also provides personalized support training to help customers get their systems up and running as soon as possible.
Expanding to Address Customer Needs
The battery industry is growing rapidly. The global lithium-ion battery market is forecasted to grow from USD 41.1 billion in 2021 to USD 116.6 billion by 2030. All around the world, countries are working to be better prepared for a green-energy future that will lean heavily on energy storage. In 2020, 5% of all new car sales were electric vehicles, by 2030, it is projected that EVs will make up 48% of all new cars sold.
With this in mind, Arbin instruments continues to establish branches in key locations to support global battery innovations that will have a society-wide impact. Arbin recently opened a location in Pune, India, in response to the growing demand for battery research and battery testing equipment in the country.
Arbin also has team members in China, Europe, and other locations where battery research is expanding. Our Texas-based headquarters remains committed to serving and meeting the needs of our US customers. In 2022, and in the years to come, we will continue to develop new solutions that address expanding and new battery testing needs around the world.
In addition to this global expansion, Arbin Instruments is expanding our production lines to address the increased need for high precision battery test equipment. These efforts are made so that we continue to be prepared to serve these industry trends as a reliable partner in battery research and development.
Conclusion
As the battery industry continues to grow and new technologies arise, Arbin Instruments is innovating along with industry leaders. For 2022 and beyond, we are focused on delivering precision battery test solutions to support the expanding industry and the global benefits that new battery developments will bring.
If you are looking for a quality, reliable testing solution that provides precision at scale for your next battery challenge, Arbin Instruments can help. Contact us today for a quote or to find out how our solutions can meet your testing needs.