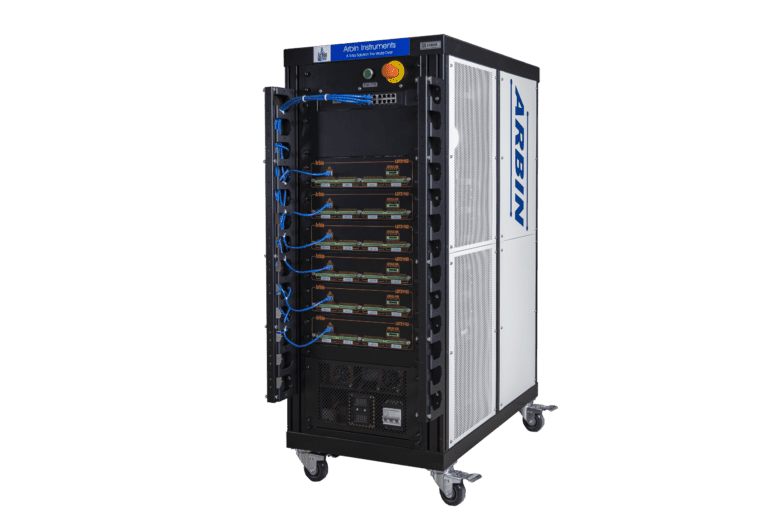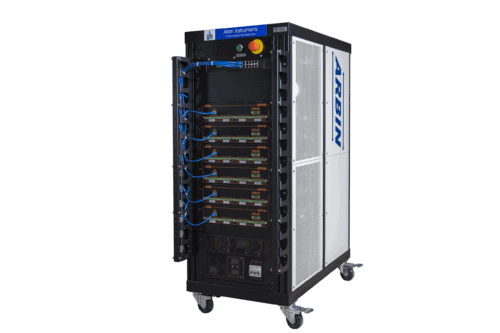 Laboratory Battery Test Series (LBT)
| | |
| --- | --- |
| | |
| Channel Voltage | (-5)~20V |
| Channel Current | 0.0001~500A+ |
| Channel Quantity | 8~256+ |
| | |
Arbin's LBT is the workhorse for every test lab providing unmatched value. The 24-bit resolution is a 256x improvement, and 100ppm precision is a greater than 10x improvement over traditional battery testers enabling battery managers and researchers to identify early trends and the smallest changes in battery data.
Arbin Instruments' LBT series offers over 15 different Current/Voltage configurations and hundreds of test channel combinations whether a benchtop model is needed, or thousands of test channels.  Each Arbin test channel provides multiple current ranges with industry-leading 24-bit resolution, to help identify early trends in battery data.
All channels are fully parallelable to increase the current handling capability when needed. Ultra-fast data logging and dynamic data acquisition make Arbin's LBT battery testing systems ideal for a wide range of applications.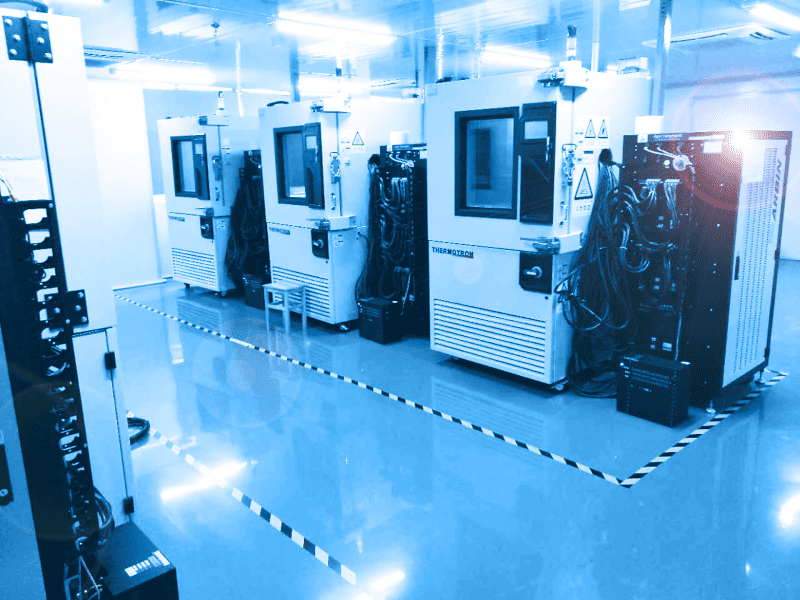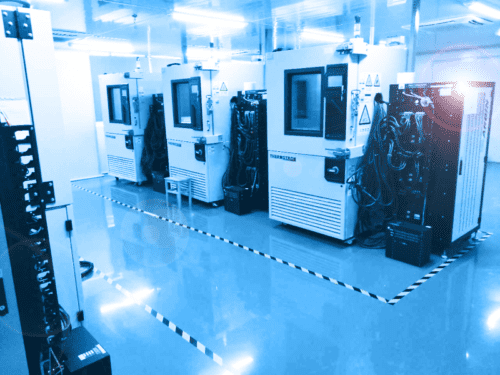 Arbin's LBT Series Standard Models
These models are intended for testing large quantities of cells.
Current Ranges per channel: 2
Test channels per board: 16
Channel Voltage: (-5)~5V
Channel Max Current: 100mA
Ranges: 100mA / 10mA
Channel Count: 16~256+
The all-purpose tester for low current (≤10A) cell testing.
Current Ranges per channel: 4
Test channels per board: 8
Channel Voltage: (-5)~5V
Channel Max Current: 1A
Ranges: 1A / 50mA / 2mA / 100μA
Channel Count: 8~96+
The all-purpose tester for high current (>10A) cell testing.
Current Ranges per channel: 4
Test channels per board: 1~8
Channel Voltage: 0~5V
Channel Max Current: 30A
Ranges: 30A / 5A / 500mA / 20mA
Channel Count: 8~96+
Relatively low-power Module testing up to 20V.
Current Ranges per channel: 4
Test channels per board: 8
Channel Voltage: 0~10V
Channel Max Current: 5A
Ranges: 5A / 500mA / 20mA / 1mA
Channel Count: 8~96+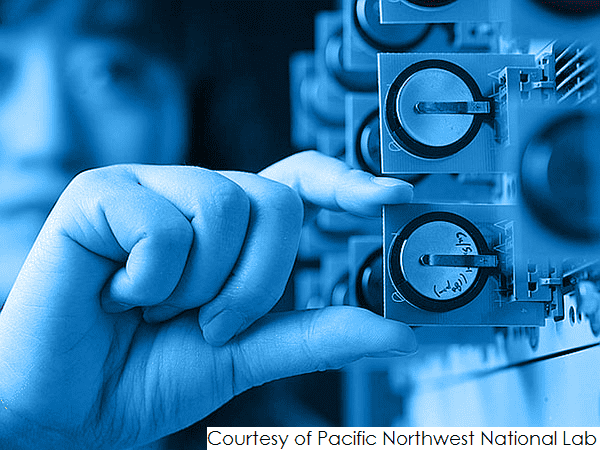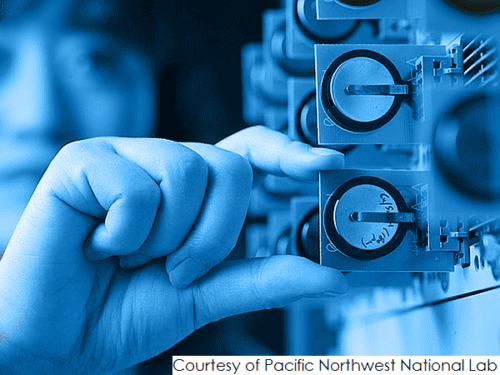 Battery research labs rely on Arbin's state of the art performance and comprehensive battery test accessories such as:
- The MZTC "Multi-Zone Temperature Chamber"
- Integrated EIS measurements
- Range of cell holders including our 3E coin cell holders
This plot illustrates the difference between an Arbin battery tester and another leading manufacturer. The first of the two distinct dips in the plot may have been missed using inferior test equipment. While many companies try to sell the same legacy equipment for over a decade, Arbin has been hard at work improving our designs to meet future industry demands. We learned a lot during our three year ARPA-E project to develop high-current high-precision testers, and have implemented this new technology in our LBT, MSTAT, and HPS test equipment series. The HPS ultra-high precision systems represent our premium product, but LBT is superior to other standard testers on the market.
Measurement precision is more critical for long‐term battery testing and long‐term battery projections than control accuracy alone. Most other battery testing systems do not correctly specify their precision and/or have relatively poor precision, which hinder the conclusions drawn from results data. Important trends and electrochemical indicators may remain unnoticed; lost in the measurement noise as illustrated at right.
What Affects Test Equipment Precision
Resolution of DAC
Resolution of ADC
Non-linearity of calibration
Short-term drift (temperature)
Long-term drift (material characteristics)
Arbin Test Equipment Improvements
Higher Resolution
Improved Software Algorithms
New Methods of Thermal Management
New Patented Shunt Design
New Method of Time Keeping
New Materials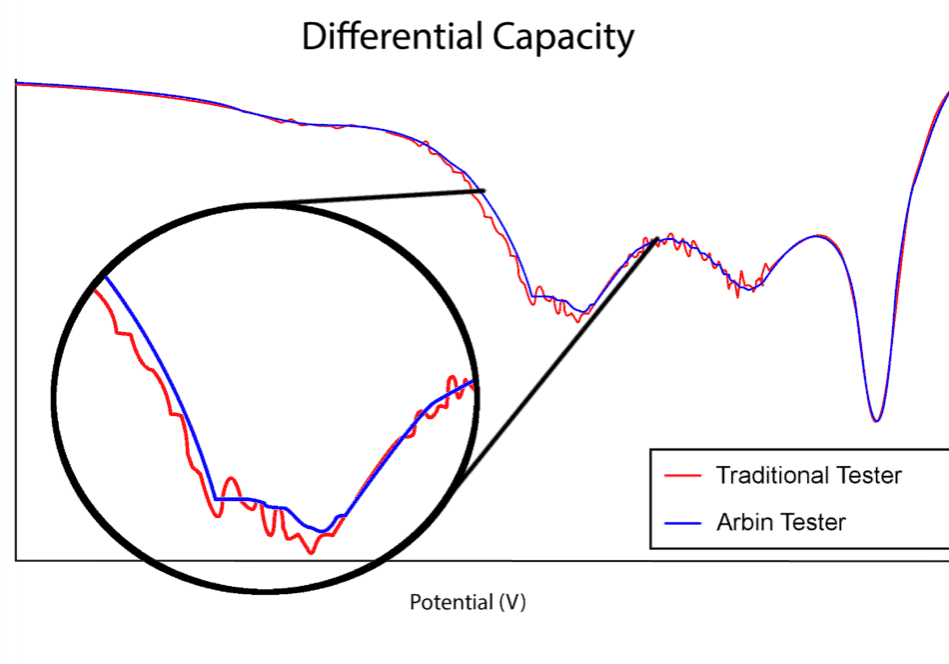 Auxiliaries and Optional Accessories Available to Enhance Testing
MZTC Multi-Chamber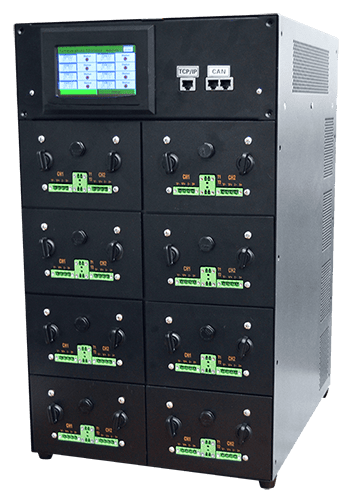 Arbin's MZTC "Multi-Chamber" provides 8 fully independent mini-temperature chambers to isolate cells under test.
EIS Integration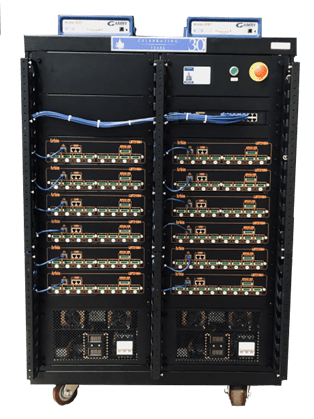 Add a Gamry EIS unit or Arbin ACIM module that is shared across up to 32 test channels (each).
Battery Holders and Racks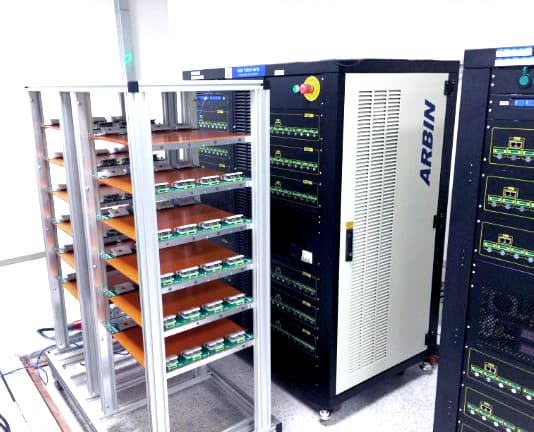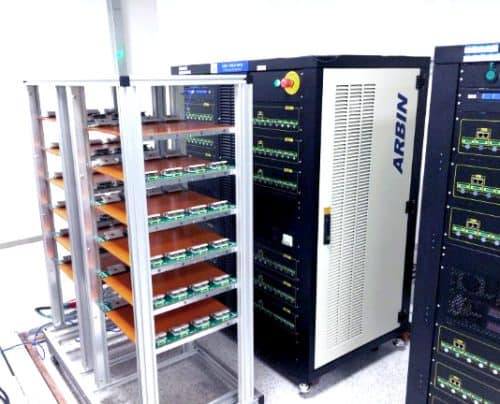 A variety of racks and battery holder are available for all cell types for an organized test environment.
EIS (electrochemical impedance spectroscopy) is an optional module to add to Arbin test systems to further enhance their capability.  Each EIS module can be shared/used by up to 32 Arbin test channels.  EIS data is synchronized with Arbin test data.
Compatible EIS modules include:
- Gamry 1010E
- Gamry 5000E
- Gamry Ref 3000
- Arbin ACIM module
Auxiliary Voltage Measurement
Arbin offers an optional AutoCal module which can be used to re-calibrate the system when needed.  All Arbin test equipment include a calibration interface as standard that can use an external meter to check or perform re-calibration.  The AutoCal module is used to automate this process and will function without the need for an external meter.
NOTE: Arbin recommends equipment calibration is checked annually and re-calibrated as-needed.
AutoCal modules are available rated up to 200A, and High precision shunts are also available to use up to 600A.
Battery Testing Systems for High-Current Cell Testing Applications
Arbin's LBT21 Series includes our LBT Cell HC battery test equipment, designed for high-current cell applications. With all of the features of our core LBT systems, our standard models in this LBT21 Series subset range from 5V - 30A to 10V - 250A. The LBT Cell HC testers are ideal for high-current life-cycle testing, cell grading, cell-level quality control, and other types of battery cell tests.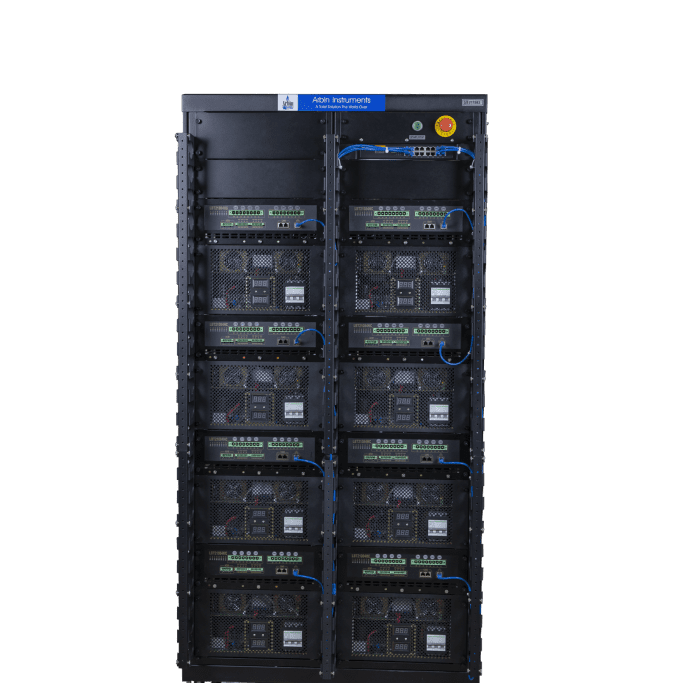 Contact Us Today for a Quote
Complete our contact form to request a quote or learn how battery test equipment from Arbin Instruments can meet your testing requirements.